Looking for some drinks to make at your next happy hour? Or perhaps you're wondering what to order next time you go to the bar? We've crafted a comprehensive list of tequila cocktails guaranteed to get the party started.
Tequila is a Mexican distilled spirit made from the agave plant and is the key ingredient in Margaritas. There are three main types of tequila: Blanco, Anejo, and Reposado. Some tequila drink recipes are sweet, some refreshing, and some savory.
24 Best Tequila Cocktails
The tequila sunrise is known as a fruity beach cocktail. Not only is it easy to make, but it is also one of the most well-known tequila cocktails there is. It is fresh, sweet, and totally gorgeous inside the glass.
The process of making it is straightforward. Pour tequila into a tall glass with ice. Add a squeeze of fresh lime juice and a full pour of orange juice. Add a splash of grenadine, then garnish the glass with a cherry or orange slice. Some also decide to add champagne to balance the sweetness and add some bubbles.
Like me, you might be tired of the classic Margarita or growing sensitive to lime's acidity. Why not try switching it up a bit? In any case, making this is very simple. Combine ice cubes, some Blanco tequila, and lime juice (or ginger beer) in a cocktail shaker. Shake until chilled, then strain into a glass. Top with grapefruit soda. You can then finish it off however you like, even with some edible flowers.
However easy it is to make, it doesn't change that it tastes outstanding and is totally refreshing. Grapefruit makes for a great substitute to lime in this adaptation of a Margarita.
From watermelon salad to watermelon salsa, there are a ton of unconventional ways to use watermelon. Next time you dice watermelon into a salad at a barbeque, consider also trying this sweet and spicy watermelon Margarita to go with it.
To make one, fill a cocktail shaker with ice, tequila, lime juice, watermelon juice, jalapeno slices, and agave nectar. Shake thoroughly and strain into a glass with fresh ice. Garnish with a fresh watermelon wedge and two jalapeno slices. You can cut the agave to make it extra skinny.
Naturally, when brainstorming tequila cocktails, this is one of the obvious choices. Shake and strain tequila, triple sec, lime juice, and agave. Top with ice, garnish with lime and serve. Traditionally, you wet the rim with lime juice and put either sugar or salt on it.
If you want to spice it up (literally), you can modify the recipe by adding strawberry, grapefruit, watermelon, or jalapeno. Impress your friends by serving these at your next Taco Tuesday!
This unique combination of pineapple and tequila gives you a bright and tangy taste. Of all the other cocktails mentioned here, this is undoubtedly one of the easiest to make. This drink calls for freshly squeezed orange juice, Blanco tequila, and Citrónge Orange for the best taste possible.
The mixture is straightforward; just stir the ingredients, and boom, you're done. I like to garnish this with a mint sprig and pineapple leaf.
This fantastic cocktail has a rich citrusy flavor that is just what you need on a hot summer day! The usual ingredients for this are aged tequila, orange juice, lime juice, and salt. Salt is an essential ingredient so that the drink is not too sour.
This cocktail drink is best served during daytime or brunch because of its light and refreshing taste. It is traditionally served in a clay pot and topped with grapefruit soda.
Mexican Mule is one of the famous variants of the Moscow classic, but with a twist. To make this cocktail, you will need ginger beer, tequila, Cointreau, and fresh lime juice as the main ingredients. The ginger beer provides a nice bite and masks some of the taste of the tequila.
Like the Moscow Mule, Mexican Mules are also usually served in a copper mug and garnished with lime. Next time you go to order a Mule, get it with tequila.
See Also: Horchata Drink Recipe
This cocktail is so refreshing that it is literally called Ranch Water. Yes, this recipe was used by ranchers a long time ago to cool down, but it was so good that the tradition kept going on and on!
The ranch water is made of 4 main ingredients: Tequila Blanco, lime juice, and soda water. This drink is usually made in large volumes, so it is great to serve for an outdoor summer party.
Most recipes call for Topo Chico sparkling mineral water, and I've got to say, they made a great choice.
See Also: Drinks with Southern Comfort
If you're a fan of the Whiskey Sour, this cocktail is right up your alley. Unlike some popular pre-made mixtures, this drink uses fresh lime and lemon juice, egg whites, Angostura bitters, and agave nectar syrup. Combine all the ingredients together, shake, and stir.
This drink is versatile and light; I enjoy a few too many at happy hour or even for a late-night nightcap. Remember to shake, shake, shake! Drinks with egg whites should be shaken hard and long to form a thick foam layer.
This margarita variation will take your drink to the next level! The best way to make it is with lime juice and orange juice to create a tart and citrusy flavor, but just lime will do. Moreover, it has both Triple Sec and Grand Marnier — we've got a strong one on our hands.
Try the bloody maria for a change rather than going for the classic Bloody Mary cocktail drink. It has a much more robust and unique flavor than the Bloody Mary. You're sure to get the hangover cure you're looking for, no matter which one you choose.
Other than tequila, this drink contains tomato juice, lime juice, hot sauce, Worcestershire sauce, prepared horseradish, celery salt, and cayenne pepper oil. Sometimes a Bloody Maria is just what you need for a fun brunch date.
Yes, this cocktail's name translates to "nap cocktail," but that's only because it's so good that you'll want to drink a few too many. This incredible pink cocktail drink is made from tequila, grapefruit juice, lime juice, and Campari, which creates a pretty pink color. You can also serve this with a lime wedge and some ice for a more stylish look.
To keep things light, this cocktail calls for Blanco tequila. Serve up and garnish with an orange or lime rind for a splash of color.
The Marble Queen is yummy, refreshing, well-balanced, and super easy to make. This drink beautifully combines the flavor of fresh lime juice, cream of coconut, and Blanco Tequila. The lime balances the sweetness of the coconut cream by adding a citrusy flavor.
Just three ingredients make this cocktail drink easy to create, especially in a large volume, so that you can serve this to your guests during game night or family gatherings!
Blue Cucumber Lime Margarita
This fabulous cocktail uses Blue Nectar Silver instead of regular tequila, improving upon the famous classic cucumber lime margarita. Then, use cucumber, Cointreau, lime juice, and simple syrup as its secondary ingredients. Use the cocktail shaker and serve it with ice. You might love this over the original one!
Smokin' Margarita
Smokin' Margarita is another one of the most accessible tequila cocktails that you can make. It's a traditional margarita, but with a smokin' twist! You have to use either Mezcal or a smoked simple syrup for the rich and spicy flavor.
This is a famous tequila cocktail drink only being served at a few bars, but now you can enjoy it in your own home. I like to garnish this one with a spiced rim and lime wedge, of course.
Oaxacan Old Fashioned
If you're a Mezcal lover, you will definitely have to try this modern-era tequila cocktail. This smoky drink uses a few main ingredients: Mezcal, Tequila Reposado, sweet agave, and Angostura bitters. This drink is so great that it spread like wildfire across the U.S. and today is served at many established bars.
If you're into the Old Fashioned (who isn't), think about trying this variation and see what you think. I don't think you'll be disappointed.
Milagro Mexican Martini
If you're familiar with Cinco de Mayo, you know tequila, chips, and salsa are pillars of the holiday. Did you know the best drink for such an occasion? A Mexican Martini is my new first choice.
This is similar to your famous Margarita, but served up with olive juice, sprite, lime juice, and orange bitters. You can tell by the name that this drink is served up, but it's also garnished with stuffed olives or a lemon rind, just like a regular martini.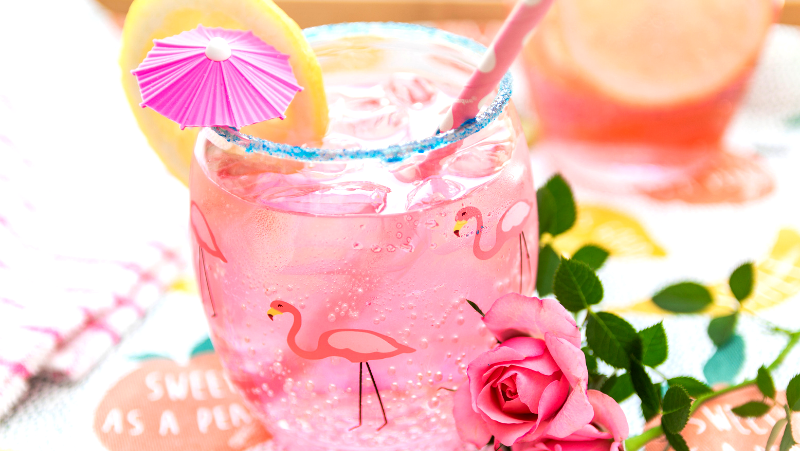 This drink is one of the less popular tequila cocktails on the list, but you might want to try this out if you're looking for something new. Its main ingredients are Blanco tequila, prickly pear fruit puree, agave syrup, and some fresh lime juice. Just combine them and shake until cold. It is best served with some ice, salt rim, and lime wheel.
This cocktail is one of the exclusive drinks that are being served in the Baccarat Hotel in New York. It gives your usual Margarita a much fancier look and flavor with a sweet, spicy, and fruity taste.
They use red ice cubes and spiked candied hibiscus flowers to garnish the drink. But the main ingredients are silver agave tequila, passionfruit juice, lime juice, allspice dram, and Cardamarao Amaro.
If you're feeling a bit under the weather or just looking for a drink that is also a bit "healthy," then the answer is a Rosemary Margarita. Rosemary has some anti-inflammatory effects, helps digestion and circulation, which can help with the typical headaches that we experience after drinking.
The main ingredients for this tequila cocktail are Blanco tequila, rosemary-infused simple syrup, pear puree, lemon juice, and a splash of club soda.
See Also: 1800 coconut tequila
New Fashioned Tequila
If we have the Tequila Old-Fashioned, then we also have the New-Fashioned. This great-tasting cocktail uses the Casamigos Tequila Anejo combined with simple syrup, banana bitters, and some Angostura bitters. Add all those ingredients in the mixing glass with some ice, then stir.
You can serve it in a glass with a block of ice and add a Luxardo cherry as a garnish.
The Bluebonnet
There are many variations of this amazing tequila cocktail drink. Still, we will leave it up to you which Bluebonnet cocktail you will try!
For our interpretation, we used Tequila Blanco, Cointreau, fresh lime juice, simple syrup, blue curacao, and grenadine for a lovely purplish color to our cocktail. It is best served in a rocks glass and uses a jalapeno slice and lemon wedge as garnish.
The Ghost Margarita is one of the famous drinks in New York restaurant bars usually served to the upper class. This special refreshing cocktail drink uses a chili simple syrup mixed with premium tequila for a modern spicy twist to your usual cocktail. The usual ingredients of this drink are silver tequila, Grand Marnier, lemon and lime juice, and Ghost chili simple syrup.
This Paloma-like tequila cocktail drink uses lemon juice and grapefruit to create a citrusy flavor. It is mixed with maple and simple syrup to add a sweet taste to your cocktail drink—some spray spicy chipotle tincture on the glass and a lemon wheel as a garnish.
Other Cocktail Recipes
24 Easy Prosecco Cocktail Recipes
Pineapple Orange Coconut Rum Cocktail
Conclusion
I hope you can find a tequila cocktail on this list that makes you shut down the bar. One of the good things to remember is that you now know how to make these drinks by yourself whenever you have the ingredients! These are our favorites, but do you know some other cocktails you want to share with the world?