I don't know about you, but growing up, meatloaf was definitely a staple meal in my home. I come from a big family so naturally, we have big dinners. At least once a month we gathered for dinner and had enough food to feed an army. Different kinds of meatloaf, potatoes in many shapes and forms, a variety of vegetables and of course some kind of salad. Meatloaf is such a comfort food and every time I make it, I instantly get nostalgic. But deciding meatloaf sides dishes and what to serve with meatloaf was always a challenge.
If you are not sure what meatloaf is, it's a mixture of ground beef, onions, breadcrumbs, milk, eggs, ketchup and seasoning. You bake the meatloaf in a baking pan for about an hour. The great thing about meatloaf is that they are so versatile. You can add vegetables, different spices and use different meats. If you are unfamiliar with them, start with an easy classic meatloaf recipe.
Meatloaf also freezes well and easily reheats. A tip I can give you is to use lean meat. If you have too much fat in the meat, it cooks out and causes a greasy mess. You can also use white meat such as ground turkey or chicken if you are not a fan of red meat.
Best Sides for Meatloaf
Meatloaf always comes with side dishes. Most side dishes work, but of course, some are better than others. Here is my list of the best side dishes for meatloaf that are versatile and pairs well with almost any kind of meatloaf.
1. Creamy Mashed Potatoes
A side dish that is always served with meatloaf would be mashed potatoes – and for a good reason! I absolutely love potatoes even if they might not be as healthy as we would like. Unfortunately, as simple as mashed potatoes might sound, a lot of people do not know how to correctly make it.
You need to have seasoning, not just salt, but a variety. Even if you just add freshly ground black pepper, your mashed potatoes already elevates to another level. Another crucial step in making creamy mashed potatoes is to add butter and cream. This makes the mixture much creamier than plain mashed potatoes.
If you want even more out of this dish, a delicious option is to add cheese – and lots of it. You can also add herbs such as chives or parsley or spices such as cayenne pepper or garlic powder. The possibilities are literally endless!
2. Green Beans
A lot of people are put off by green beans because they were served plain boiled beans. This is such a sad misconception as beans are so appetizing and versatile.
One option is to toss the green beans in olive oil, salt and pepper, garlic powder and grated Parmesan cheese. Bake on a baking sheet until cooked at 350 degrees Fahrenheit.
Another way to serve green beans is as part of a salad. A family favorite is a fresh salad of green beans, tomatoes, red onion, feta and a balsamic dressing. This is truly a crispy explosion of flavor and is a great option for summers.
A more elaborate dish would be a green bean casserole with onions, chorizo and a creamy mushroom sauce. Although delicious, just make sure that the flavors do not clash with your meatloaf.
3. Coleslaw
If you have a rich meatloaf, creamy coleslaw will balance it out nicely. There are a lot of coleslaw recipes out there so, in the end, it is left to personal preference. If I were to give some advice, it would be to choose a coleslaw recipe that has a good balance of sweet and tangy; meaning not a bitter mayonnaise but also not too much sugar in the recipe.
Something I truly appreciate about this side dish is its versatility. There are many different ingredients you can use in a coleslaw such as carrots, onions, different cabbage varieties or beets. You can also use a vegan mayonnaise or use a yogurt base if you do not fancy mayonnaise.
4. Mac n Cheese
Mac n Cheese is a must-have if there are kids on the guest list. For adults, this might be too many calories, but it is perfect for kids. Make sure to make it extra cheesy.
Here is also a great idea; make a mac n cheese stuffed meatloaf. All you have to do is make a thick mac n cheese and your meatloaf mixture. Place half of the meat mixture in a baking pan. Make an indent in the middle so the meat pushes up the sides. Place the mac n cheese in the center and add the remaining meatloaf mixture. Make sure that the mac n cheese is fully enclosed on all sides. Bake for about 30 minutes at 350 degrees Fahrenheit. Top with extra cheese and bake another 10 minutes.
5. Fresh Cucumber & Chili Salad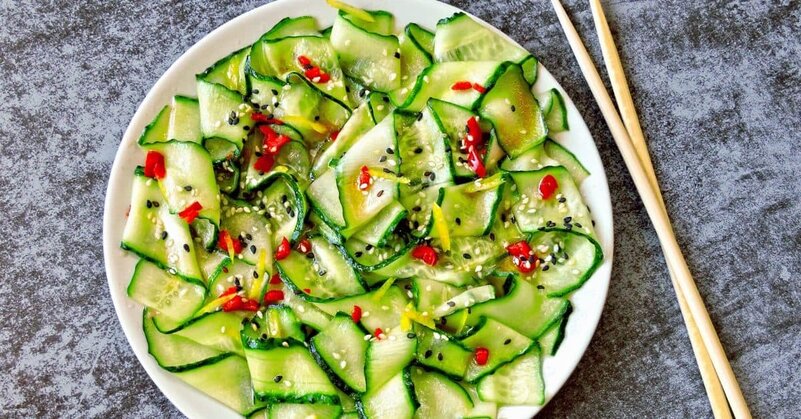 Of course there are many salads that go with meatloaf but this cucumber salad is at the top.of my list. More on the healthy side than comfort food but this fresh cucumber salad mixed with spicy red chili is an ideal side. Firstly it takes very little time to prepare and secondly it's fresh and healthy. It compliments and is an ideal meatloaf side. Slice up your cucumber in very thin slices, use some dressing and chop up the chili to give it the perfect flavor.
6. Seasoned Rice
Seasoned rice is a side dish that can be added to anything and in my opinion what goes with meatloaf perfectly. Lucky for you, we have a seasoned Texas Roadhouse rice recipe that you can prepare with your next meal. Takes little time to prepare and is equally delicious so you know you're in for a treat.
7. Stuffed Peppers
The last side dish I chose is stuffed bell peppers. Here, there are a few options you can choose from. The amount of cooking time will range anywhere between 10 minutes to 30 minutes. This entirely depends on the type of stuffing you choose.
Because you already have meat on the table, opt for a vegetarian stuffed pepper. Make a Mediterranean stuffed pepper with tomatoes, olives, cheese and herbs. Another vegetarian option is to make a Halloumi stuffed pepper with mushrooms and couscous. There are many mouth-watering recipes out there so you have many options to choose from.
If you want to use meat, you can choose a stuffed pepper recipe which usually consists of a saucy meat mixture, vegetables, rice and cheese. Leftover meatloaf can be used as a stuffing in the peppers and baked for 25-30 minutes. Now you know what goes well with meatloaf – Our stuffed pepper recipe.
Conclusion
As you can see, there are tons of delicious, versatile side dishes that can be served with your meatloaf. Feel free to experiment and push the boundaries as there are always new flavor combinations waiting to be discovered. With these side dishes you can easily change flavors to match with each other and adapt the recipes to meet your guests' needs.